Electroless Nickel Platings
Nickel plating produces hard and durable surfaces and is often used in applications that require both wear resistance and corrosion protection. There are two primary methods for applying nickel plate: "Electroless" and "Electrolytic."
Electroless nickel plating is a non-electrical technique used to deposit a nickel-phosphorous alloy onto the surface of base material or "substrate." In this process, the substrate is placed into a chemical bath with nickel phosphorous compounds and a reducing agent, which causes metal ions to be deposited onto its surface. Because the process employs an autocatalytic chemical reaction instead of an electrical current, it deposits a reliable, repeatable coating of uniform thickness.
Electroless nickel plating provides the substrate with excellent corrosion protection, similar lubricity properties to plated chromium, and a hard, clean surface that is resistant to wear. It effectively coats parts with sharp edges, deep recesses, seams, threads, and complex geometries.
The process can also deposit nickel plate alloys with different percentage of phosphorus, ranging from 2–5 percent to up to 11–14 percent (high phosphorus electroless nickel plating), resulting in significantly different metallurgical properties.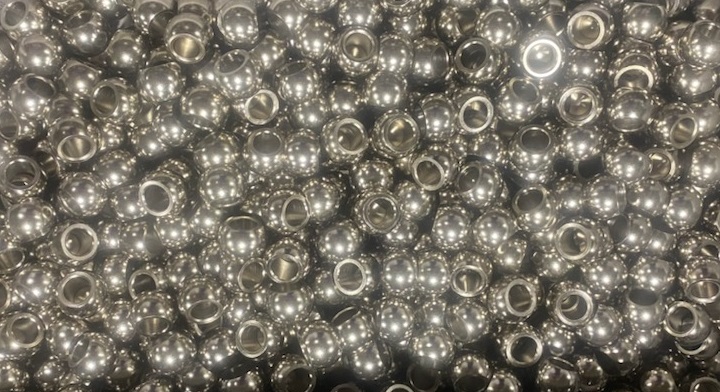 Electroless Nickel Plating vs. Electrolytic Nickel Plating
The electroless nickel plating process has several distinct advantages over the traditional electrolytic nickel plating process.
First, the electrolytic nickel plating process requires the application of an externally applied DC current, resulting in plating thickness that tends to be non-uniform; excess deposits can form on edges or corners of the substrate, where electrical current is typically higher.
Second, with high phosphorous electroless nickel plating, the plate itself is an amorphous alloy of nickel and phosphorous. The addition of phosphorous provides the deposit with more corrosion resistance, fewer magnetic properties (high phosphorous varieties), and a lower coefficient of friction than an electrolytic nickel.
Third, with the electroless process, the plate is uniformly deposited, eliminating the need for post-plate machining on critical dimensions.
Applications
Our Mil-C-26074 and ASTM B733 certified electroless nickel plating services are typically used in applications that require hardness, wear resistance, and corrosion protection. Such metal finishing service applications include a very wide range of uses, from common household goods such as knives, forks, and bathroom fixtures to industrial and military equipment, paper-making machinery, transportation equipment, and oil field parts.

Because of its exceptional hardness, high phosphorous electroless nickel plating is used to resurface and repair worn parts, where the coating is applied to the worn part which is then machined back to its original specifications. Nickel plating can be used to protect substrates in corrosion environments that range from mild to extreme.
Benefits
Corrosion resistant, even in harsh environments
Lubricity/Release properties
Hardness, strength, and chip resistance
Ability to plate irregular surfaces
Uniform plate thickness
Specifications
ASTM B733
MIL-C-26074
SAE AMS 2404
MIL-STD-171
ISO 4527

AMS 2404
SAE AMS-C-26074
Limitations
Monitoring and control of the chemical bath is critical and can be challenging, and residual metal stress can occur if the plating process is not properly controlled
Services & Markets Served
Metal Finishing Technologies, LLC is a nationally recognized source for electroless nickel platings as well as a certified FAA repair station servicing the Automotive, Marine, Aerospace, Medical, Commercial and Electrical industries since 1947.
Metal Finishing Technologies prides itself on the high level of quality finishes we produce everyday. Because of our Statistical Process Control used to maintain our chemistry and the Total Quality Management programs we have in place we were able to obtain our ISO 9001 as well as AS9100 certification.
Ready to get started?
Contact Our Team of Experts Today!
Environmental Stewards in a Non-Green Industry
MFT's sustainability promise is the cornerstone of our company. We are fully dedicated to our green story through our commitment to sustainable, ethical, and eco-friendly principles. The following principles support our sustainability promise and are deeply rooted in our daily activities and company culture.
MFT further utilizes third party consultants and laboratories to verify results and pursue new technologies and ideas.

Protection
MFT conducts all operations in a way that protects our employees and their families, customers, neighboring communities, and the environment.

Compliance
MFT implements sustainable metal plating solutions and safe and environmentally sound practices that not only comply with or exceed regulatory and legal requirements, but also mitigate environmental, health, and safety risks.

Conservation
MFT embraces our role as environmental stewards while practicing and promoting the conservation of renewable resources while striving to minimize our environmental impact.

Monitoring
MFT constantly monitors the groundwater, surface water, and air at and around its metal plating facility. We are currently participating in a 30-year groundwater monitoring and compliance program and are expected to acquire our Stewardship Permit in 2022.