ASTM Standard Electropolishing Services
Electropolishing is an electrochemical process through which unwanted material can be removed from a metallic Electropolish part or "substrate."
During electropolishing for stainless steel and other metals, the substrate is placed into an electrolytic bath and an electrical current is passed through the substrate to the bath, thus causing the outer surface of the substrate to dissolve into the bath. This process serves to polish, passivate, or deburr metal parts, and is sometimes used to fine polish surfaces without the use of abrasives.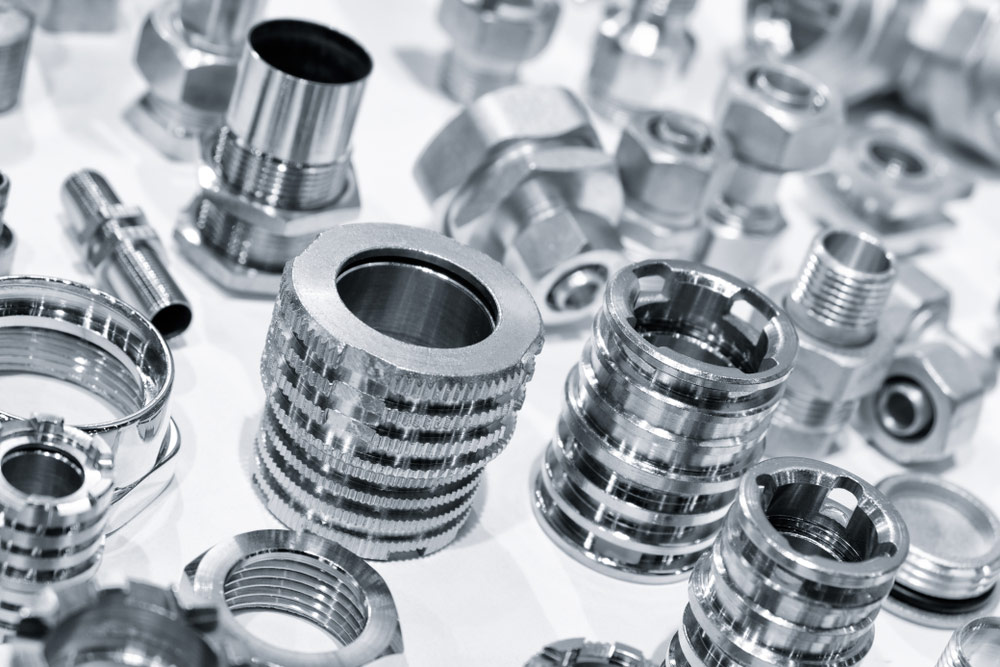 Electropolishing vs. Passivation
Electropolish Passivation is a chemical process used to help restore the surfaces of contaminated substrates to their original condition. Typically, the substrate to be passivated is placed into a diluted nitric acid or citric acid solution for a specified length of time and temperature. This process is designed to impurities from the surface of the substrate.
Electropolishing, on the other hand, is essentially the opposite of electroplating; through the application of an electrical current to the substrate, a small surface layer is removed and along with it, any impurities that may have contaminated the surface.
Benefits
Simplicity
Cost
Uniformity of electropolished surface
Provides an exceptionally smooth, clean surface that is easily sterilized (surgical implements)
Levels micro peaks and valleys
Results are often considered "aesthetically pleasing"
Applications
Electropolishing is a simple process that works well on both perfectly smooth, symmetrical substrates as well as irregularly-shaped electropolishing objects, such as electropolished stainless steel drums of washing machines, and stainless steel surgical devices, or copper semiconductors. Electropolishing is also commonly used to prepare thin metal samples for transmission electron microscopy and atom probe tomography because the process does not cause the mechanical deformation of surface layers observed with mechanical polishing.
Specifications
ISO 15730:2000 Metallic and other Inorganic Coatings
ASME BPE Standards for Electropolishing Bioprocessing Equipment
SEMI F19, Electropolishing Specifications for Semiconductor Applications
ASTM B 912-02 (2008), Passivation of Stainless Steels Using Electropolishing
ASTM E1558, Standard Guide for Electrolytic Polishing of Metallographic Specimens
ASTM A967
ASTM A380
AMS2700
ASTM F86
Services & Markets Served
Metal Finishing Technologies, LLC is a nationally recognized source for ASTM standard electropolishing services as well as a certified FAA repair station servicing the Automotive, Marine, Aerospace, Medical, Commercial and Electrical industries since 1947.
Metal Finishing Technologies prides itself on the high level of quality finishes we produce everyday. Because of our Statistical Process Control used to maintain our chemistry and the Total Quality Management programs we have in place we were able to obtain our ISO 9001 as well as AS9100 certification.
Ready to get started?
Contact Our Team of Experts Today!
Environmental Stewards in a Non-Green Industry
MFT's sustainability promise is the cornerstone of our company. We are fully dedicated to our green story through our commitment to sustainable, ethical, and eco-friendly principles. The following principles support our sustainability promise and are deeply rooted in our daily activities and company culture.
MFT further utilizes third party consultants and laboratories to verify results and pursue new technologies and ideas.

Protection
MFT conducts all operations in a way that protects our employees and their families, customers, neighboring communities, and the environment.

Compliance
MFT implements sustainable metal plating solutions and safe and environmentally sound practices that not only comply with or exceed regulatory and legal requirements, but also mitigate environmental, health, and safety risks.

Conservation
MFT embraces our role as environmental stewards while practicing and promoting the conservation of renewable resources while striving to minimize our environmental impact.

Monitoring
MFT constantly monitors the groundwater, surface water, and air at and around its metal plating facility. We are currently participating in a 30-year groundwater monitoring and compliance program and are expected to acquire our Stewardship Permit in 2022.