Zinc Plating Services
Zinc plating is the workhorse of anti-corrosion metal coatings. It provides a durable, environmentally-friendly, and cost-effective way to protect other metals (such as iron or steel) from corrosion.
Zinc plating or "zinc electroplating" is an "electro-deposition" process; the base metal or "substrate" is placed into a bath of specially-formulated zinc metal ionic solution. Electrical current is then passed through both the solution and the substrate, causing a thin layer of zinc coating to be deposited onto the surface of the substrate.
Zinc coating not only provides both a physical and a sacrificial barrier between the substrate and its environment, thus protecting the substrate from rust and other forms of corrosion.
Zinc plating is effective in mild to moderately high-corrosive conditions.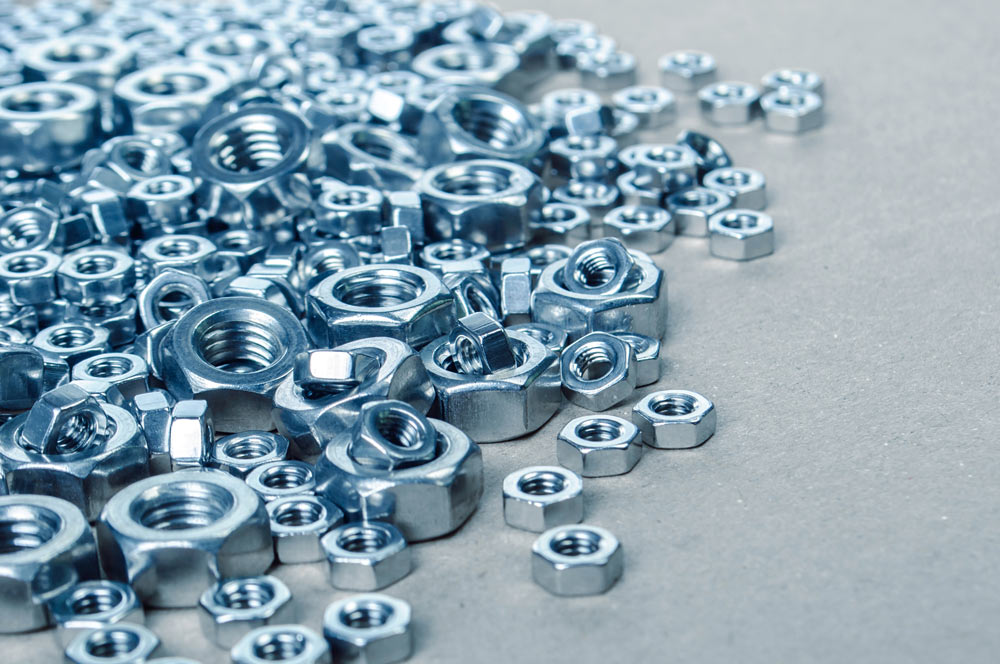 Zinc Applications
Zinc plating services are typically used in applications that require hardness, wear resistance, and corrosion protection. Such applications include a very wide range of uses, from common household goods such as knives, forks, and bathroom fixtures to industrial and military equipment, paper making machinery, and transportation. Zinc electroplating is commonly used for nuts, bolts, fasteners, clips and springs, and other small metal parts. Although generally used in mild to moderately corrosive environments zinc can be used in areas where higher corrosion resistance is needed. For environments with extremely corrosive conditions, other coatings may provide better protection.
Benefits
Corrosion-resistant
Low Cost
Variety of Finishes
Alloys well with other metals to enhance corrosion resistance
Lightweight
Limitations
Best suited for low- to moderately-corrosive environments
Performance can degrade under high temperatures unless appropriately treated
Achieving consistent thickness in zinc coating can be challenging
Zinc Characteristics & Finishes
Zinc electroplating can range from a dull matte to a very bright, chrome-like, finish. MFT employs a number of specialized zinc plating services and coating processes to enhance the cosmetic appearance of the zinc plate, providing a bright, white, smooth finish that can be chromated or passivated in a variety colors including clear, blue, iridescent yellow, olive drab and black. These coatings not only change the color of the zinc but improve the zinc coatings corrosion resistance.
High build trivalent passivates are used on top of zinc coatings; used as an enhanced corrosion resistance, surface primer, decorative finish, or to retain electrical conductivity.
Pure zinc coating has a hardness of about one-third to one-half that of most steels.
Specifications
ASTM B-633
AMS 2402
MIL-STD-171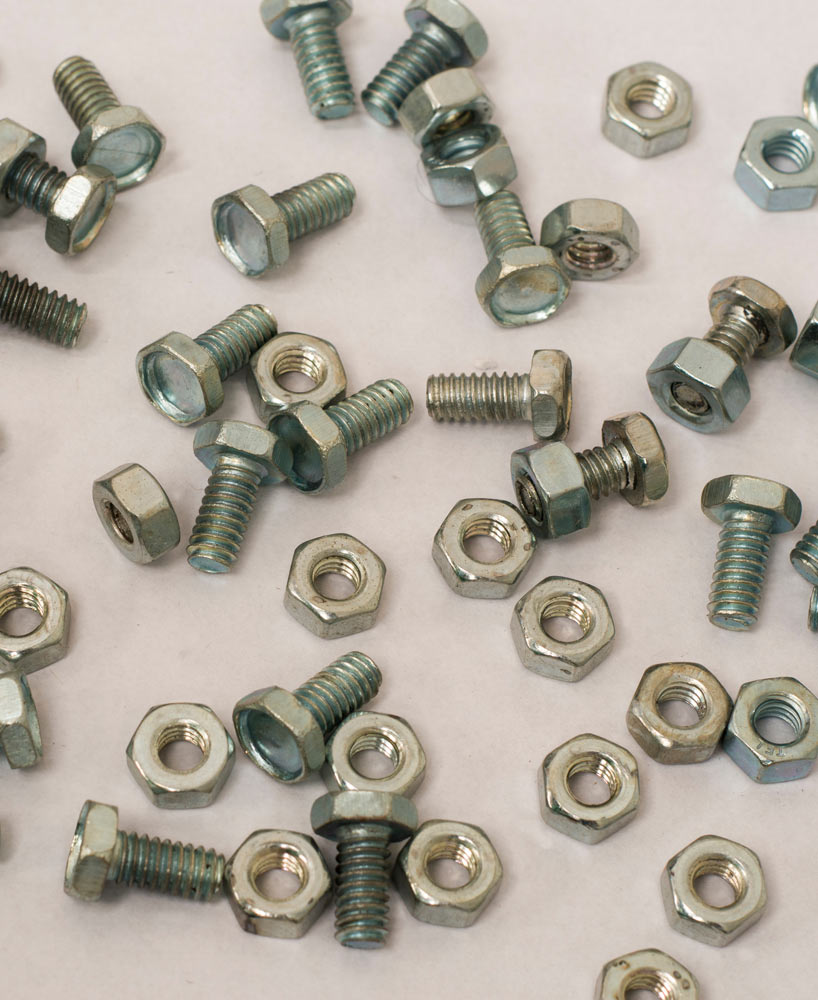 Zinc : The Safer & Better Alternative to Cadmium
High-performing parts and equipment are a necessity in demanding industries such as automotive, aerospace, military, defense, marine, oil and gas, agriculture, construction, and heavy equipment. Metal components and structures are exposed to excessive corrosion, wear, and thermal stresses. In the past, these industries turned to cadmium plating for its superior corrosion protection, excellent conductivity, and built-in lubricity. The deleterious impacts of cadmium exposure to the environment and health risks have forced industries to find safer and viable alternatives.
One of these alternatives is zinc. Composed of approximately 10-20 percent nickel and the remainder zinc, this alloy combines the most desirable characteristics and qualities of both metals. Like cadmium, zinc has a sacrificial barrier layer that protects the underlying substrate. However, the addition of the more noble nickel slows the zinc corrosion and extends the longevity of the barrier layer. In fact, zinc plating demonstrates equivalent, if not better, corrosion properties than cadmium plating without the adverse environmental and health impacts. Thus, zinc has effectively replaced cadmium as the safer and better plating option for highly corrosive and high-temperature applications and aggressive and demanding environmental conditions.
While zinc is often reliant on passivation and top coating for protection, zinc offers optimal unpassivated corrosion resistance. Because passivates gradually lose their effectiveness in higher temperatures, zinc also performs much better than zinc in extreme thermal applications. Its excellent corrosion resistance can be further enhanced by various post-treatments, passivates, and top coating. Finally, zinc also reduces the risk and rate of galvanic corrosion when mating dissimilar metals, such as stainless steel and aluminum.
Benefits & Applications of Zinc
The demand for zinc has increased as industries and manufacturers take advantage of its numerous benefits to meet important factors such as longer life cycle requirements, stricter health and safety standards, extended product warranties, sustainable business practices, and minimizing environmental impact. It provides a higher degree of substrate protection, because of its exceptional corrosion resistance, wear and abrasion resistance in moving parts, and ability to reduce thermal stress in high-temperature applications.
Zinc provides significant advantages to the automotive, aerospace, and marine industries. Automotive manufacturers and their OEM suppliers were the first major industry to rely on zinc. Its ability to protect engine and exposed parts from corrosion, friction, thermal stress, and abrasion has helped extend the working life and appearance of both the vehicle and its parts. Similarly, the aerospace industry has replaced cadmium with zinc for critical corrosion protection for exposed parts such as landing gear, turbines, and fasteners. Not only does zinc extent component life and help meet longer warranty requirements, its compatibility with light-weight metals and materials also helps with the light-weighting of vehicles and aircrafts.
Because corrosion reduces the working life of components and parts and contributes to equipment and structure failure, the demand for zinc plating will only continue to grow. It is now used for a wide variety of applications, including electrical power-transmission lines, fasteners on structures exposed to harsh weather such as bridges, small engine parts, railroads, heavy equipment, oil refineries, ships and recreational boats, agricultural machinery, and much more.
The following are some of the qualities and benefits of zinc :
Exceptional corrosion and oxidation resistance
Enhanced hardness for added protection
Superior performance in higher temperatures
Reduces friction, abrasion, and wear rate
Improves the strength of the material substrate
Long-term cathodic and galvanic corrosion protection
Enhanced electrical conductivity
Extends the service lifespan of parts, components, and equipment
Reduces maintenance and replacement costs
Excellent adhesion properties with blister-free deposits
Outstanding covering power and uniformity of plate distribution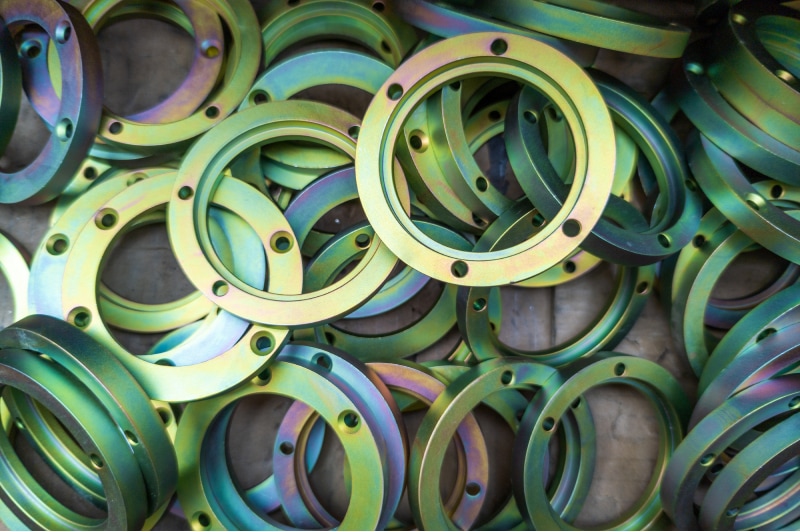 Our Zinc Plating Capabilities
As a leading provider of environmentally responsible metal plating solutions, Metal Finishing Technologies offers high-quality, long-lasting, zinc plating services.
High nickel alloy (12-18%)
Rack and barrel plating available
Top coating, sealers, and torque and tension modifiers
Passivations available in clear and black
Surface enhancement
Refurbishment
Anodizing
Services & Markets Served
Metal Finishing Technologies, LLC is a nationally recognized source of diversified metal finishing and surface preparation as well as a certified FAA repair station servicing the Automotive, Marine, Aerospace, Medical, Commercial and Electrical industries since 1947.
Metal Finishing Technologies prides itself on the high level of quality finishes we produce everyday. Because of our Statistical Process Control used to maintain our chemistry and the Total Quality Management programs we have in place we were able to obtain our ISO 9001 as well as AS9100 certification.
Ready to get started?
Contact Our Team of Experts Today!
Environmental Stewards in a Non-Green Industry
MFT's sustainability promise is the cornerstone of our company. We are fully dedicated to our green story through our commitment to sustainable, ethical, and eco-friendly principles. The following principles support our sustainability promise and are deeply rooted in our daily activities and company culture.
MFT further utilizes third party consultants and laboratories to verify results and pursue new technologies and ideas.

Protection
MFT conducts all operations in a way that protects our employees and their families, customers, neighboring communities, and the environment.

Compliance
MFT implements sustainable metal plating solutions and safe and environmentally sound practices that not only comply with or exceed regulatory and legal requirements, but also mitigate environmental, health, and safety risks.

Conservation
MFT embraces our role as environmental stewards while practicing and promoting the conservation of renewable resources while striving to minimize our environmental impact.

Monitoring
MFT constantly monitors the groundwater, surface water, and air at and around its metal plating facility. We are currently participating in a 30-year groundwater monitoring and compliance program and are expected to acquire our Stewardship Permit in 2022.