Silver Plating Services
Silver is commonly known as a precious and decorative metal, but it also has desirable properties for metal finishing and industrial manufacturing applications. First and foremost, as a noble metal, silver resists oxidation (even at high temperatures). Silver also provides excellent solderability, ductility, conductivity, corrosion resistance, and lubricity at a relatively inexpensive cost compared to several other metal plating options. With its brilliant white luster, it can also serve cosmetic purposes in matte, semi-bright, or bright finishes. Silver has the highest optical reflectivity in the visible range, making it ideal for reflective applications such as mirrors.
A silver finish is a much more cost-efficient alternative to gold plating in many applications, while producing similar overall results. The most notable weakness, by comparison, is silver's ability to tarnish in suboptimal conditions. However, it's also possible to finish silver plating with a chromate post-treatment that improves its tarnish resistance.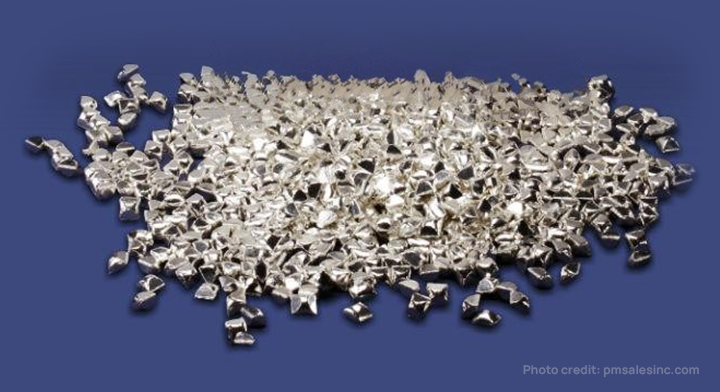 Silver Applications
Silver plating can be found in applications throughout many industries, such as aerospace and defense, electronics, consumer/home goods, automotive, medical, power generation, and musical instruments. It's a highly versatile metal with a long list of desirable traits and is often preferred over similar but much pricier metals such as gold. One of the more common uses of silver in an industrial context is as anti-gall on fastener threads, static seals, and bushings, where it also provides temperature resistance and corrosion protection.
The great solderability of silver suits it well to small parts such as kitchen utensils and cutlery ("silverware"), and its high reflectivity is a key property that's been relied upon in the photography and mirror-making industries for many years. Due to the extremely low electrical resistance exhibited by this metal, it's also found a home in the renewable energy sector. Silver is seen as a sustainable and affordable metal plating option than palladium or gold for solar panel, battery, and other clean energy components that require conductive properties.
Medical devices may incorporate silver-plated components due to the sterile nature of silver, which is an excellent antibacterial choice for hospital environments. Its classification as a noble metal speaks to its durability, as well. Silver is highly resistant to corrosion and has a very high melting point, making it a long-lasting go-to metal for demanding industries such as aerospace.

Benefits
Superior ductility and wear resistance
Great durability
Excellent solderability
Corrosion resistant coating
Excellent high-temperature lubricity
Withstands very high temperatures
High thermal and electrical conductivity
Lightweight for a metal of this durability
Antibacterial
Delivers its best qualities even in an extremely thin plate (as low as 0.0003 inches)
Specifications
ASTM B 700
AMS 2412
AMS 2410
AMS 2411
Limitations
Tarnishes easily
Solderability decreases with age
Not a hard protective layer; silver is soft and malleable
Vulnerable to sulfur, which creates tarnishing

Although silver can tarnish, it's possible to apply anti-tarnish chromate and non-chromate coatings that improve tarnish resistance and slow the process. If tarnishing is a concern, it's also best to use silver in applications that do not involve exposure to sulfur — the main cause of this reaction. Products finished with a silver plate can be packaged in silver-saver protective papers or other non-sulfur containing options to help preserve their sheen.
Services & Markets Served
Metal Finishing Technologies, LLC is a nationally recognized source for electroless nickel platings as well as a certified FAA repair station servicing the Automotive, Marine, Aerospace, Medical, Commercial and Electrical industries since 1947.
Metal Finishing Technologies prides itself on the high level of quality finishes we produce everyday. Because of our Statistical Process Control used to maintain our chemistry and the Total Quality Management programs we have in place we were able to obtain our ISO 9001 as well as AS9100 certification.
Ready to get started?
Contact Our Team of Experts Today!
Environmental Stewards in a Non-Green Industry
MFT's sustainability promise is the cornerstone of our company. We are fully dedicated to our green story through our commitment to sustainable, ethical, and eco-friendly principles. The following principles support our sustainability promise and are deeply rooted in our daily activities and company culture.
MFT further utilizes third party consultants and laboratories to verify results and pursue new technologies and ideas.

Protection
MFT conducts all operations in a way that protects our employees and their families, customers, neighboring communities, and the environment.

Compliance
MFT implements sustainable metal plating solutions and safe and environmentally sound practices that not only comply with or exceed regulatory and legal requirements, but also mitigate environmental, health, and safety risks.

Conservation
MFT embraces our role as environmental stewards while practicing and promoting the conservation of renewable resources while striving to minimize our environmental impact.

Monitoring
MFT constantly monitors the groundwater, surface water, and air at and around its metal plating facility. We are currently participating in a 30-year groundwater monitoring and compliance program and are expected to acquire our Stewardship Permit in 2022.